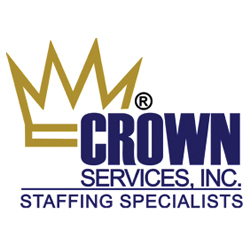 Warehouse Associates
Sorry, this job has expired.
Louisville, KY
Know what's right around the corner? PEAK SEASON!! Don't wait for the rush and get lost in the shuffle! Crown Services is hiring

Warehouse Associates
for Riverport, West End and East End, Louisville locations

The best part? The jobs are available RIGHT NOW!
Why start now?

~Shift selection! Crown is offering multiple shifts, and the earlier you apply, the better your chances of getting the schedule you want!
~Earnings potential! Everyone knows the closer it gets to the end of the year, seasonal jobs pay more. Why miss out on all that money waiting for a higher rate? Start now, and enjoy weekly pay while your pay rate increases as time goes on! Earn incentives and bonuses just by showing up and doing your job - it's really that easy!
~Career potential! Crown Jewels who demonstrate outstanding attendance, productivity, quality of workmanship and attitude have a greater chance of being offered a permanent position with the company at the end of the season! That will lead to even more earnings potential, as well as opportunities to apply for promotions.

Apply today using quick apply, in person or phone - See apply buttons

Crown Services, Inc is an Equal Opportunity Employer
Must be 18 years of age, or older, and eligible to work in the US.
Inbound and Outbound Warehouse Associate duties may include:
Receiving product into a computer-based Warehouse Management System, to ensure accurate inventory tracking, customer billing, and process flow.
Put-Away: storing product in the warehouse to be picked for shipment at a later time
Picking product from designated warehouse locations based on product or pick list
Packaging product to customer specifications
Shipping product via a computer-based warehouse management software.
May be required to safely operate material handling equipment such as a manual pallet jack, and/or shrink-wrap machine.

Job Requirements
~Initiative – Volunteers readily; Seeks increased responsibilities; Asks for and offers help when needed.
~Attendance/Punctuality – Is consistently at work and on time. Observes time limits for breaks and lunches.
~Dependability – Follows instructions, responds to management direction; Takes responsibility for own actions; Keeps commitments; Works required overtime when needed.
1st and 2nd shifts
Full and Part-time weekend shifts available
14405